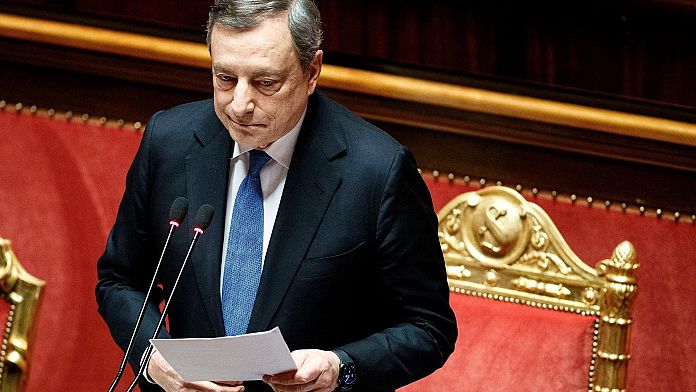 The political future of Italian Prime Minister Mario Draghi hangs in the balance this week as a key speech and debate in the Senate could decide whether his government stands or falls.
Italy has gone through dozens of governments since the end of World War II, so it is very used to political crises.
But the unrest that has gripped his political parties manifests itself differently. Draghi offered to step down last week after coalition partner, the populist Five Star Movement, boycotted an important Senate vote.
But Italian President Sergio Mattarella has refused to accept Draghi's resignation – at least not yet.
Draghi is not a politician, and in his 17 months at the helm of an unusual "national unity" government, he has earned statesman status in Western Europe for his strong support for aid to Ukraine and for his economic reform efforts.
Draghi will give a speech in parliament on Wednesday, and the next debate will help decide whether he will remain in office.
If Draghi is unable—or unwilling—to revive his coalition, an early election could result.
If all coalition partners can come to an agreement, "the government can continue to work with renewed vigor," said Gaetano Azzariti, professor of constitutional law at the Sapienza University of Rome.
If this does not happen, according to Professor Azzariti, Mattarella will decide the next step.
This could lead to an attempt to form a new government with a different prime minister or a general election.
Unlike many previous political crises in Italy, which were ignored by many citizens, this time around, many Italians are begging Draghi to stay.
An online petition called "Draghi, stay", launched by former Prime Minister Matteo Renzi, had garnered more than 100,000 signatures by Monday evening.
Hundreds of ordinary citizens and political leaders rallied in support of Draghi in the square on Monday in Rome, Milan and other cities.
About 1,000 mayors from rival political parties signed an open letter to Draghi urging him to stay.
Various lobbies, including a group of doctors worried about any invalidation of state leadership amid the rise in coronavirus infections, have also issued "please stay" calls.