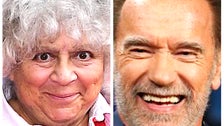 Actor Miriam Margolis fully remembers Arnold Schwarzenegger deliberately farts in her face on the set of End of Days and says she hasn't forgiven him.
Margolis, who played Professor Pomona Sprout in several Harry Potter films, said there was nothing magical about working with the "rude" and "narcissistic" Schwarzenegger.
In 1999's End of Days, Schwarzenegger plays an ex-cop who tries to stop Satan from spreading his seed as the new millennium approaches.
"I was playing Satan's sister and he was killing me, so he put me in a position where I couldn't escape and lay on the floor. And he just farted," Margolis explained. "It wasn't on the tape, it was in one of the pauses, but I didn't forgive him for that."
Maybe we should call him Arnold Fartzenegger.
HuffPost was unable to contact Schwarzenegger's agency immediately for a response.