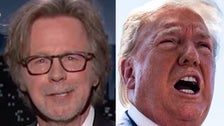 Carvey responded with a series of anecdotes in the style and voice of nightlife legend Johnny Carson, with a rimshot after each crack.
"Melania heard that Trump could run. She booked a one-way ticket to Air Force Done," he said in one of the jokes.
He then hosted a mock 2024 debate between Trump and the president. Joe Bidenwith Carvey filling both roles and Kimmel's assistant Guillermo playing the moderator.
Check it out in the Tuesday night monologue: