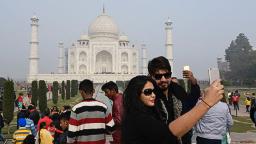 The Taj Mahal was built in the 17th century by the Mughal emperor Shah Jahan in honor of his third wife, Mumtaz Mahal, who died in childbirth.
"Taj Mahal" means "crown of palaces" in Urdu and Persian.
Architecture
The most recognizable feature of the Taj Mahal is the large white domed mausoleum flanked by four towering minarets at each corner. The exterior is made of white marble.
The cenotaphs and the screen surrounding them are covered with a bizarre mosaic of semi-precious stones.
On either side of the Taj Mahal are two red sandstone buildings: a mosque and an assembly hall.
The grounds also include gardens and a long reflecting pool.
Schedule
1628 – Shah Jahan becomes emperor as part of the Mughal dynasty ruling northern India.
1631 – His wife Mumtaz Mahal dies in childbirth.
1632 – Start of construction of the Taj Mahal. An estimated 20,000 workers helped build the structure.
1648 – The main mausoleum of the Taj Mahal is completed.
1653 – Additional features including a mosque, guest house and courtyard are completed.
1666 – Shah Jahan dies and his remains are buried next to Mumtaz Mahal under the Taj Mahal complex.
1861 – The Archaeological Survey of India (ASI) was founded to help preserve and restore Indian monuments and historical sites.
May 9, 2018 – The Supreme Court of India is ordering ASI to better carry out its restoration plan as the discoloration and stains on the outside of the Taj Mahal were not fixed as promised.