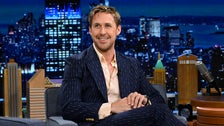 Ryan Gosling ready to talk about "Barbie" – and finally revealed why he agreed to the role of Ken.
"I was surprised how, you know, some people clung to my Ken like they'd ever thought of Ken a second before," Gosling told host Jimmy Fallon. "They never played with Ken. Nobody plays with Ken, man.
"He's an accessory, and not even one of the cool ones," he added.
Gosling did say that the script, written by Gerwig and her writing/directing partner Noah Baumbach, was "the best script I've ever read". Gosling, who shares two daughters with actress Eva Mendes, still needed time to consider the role, but found the answer outside.
"I went out to the backyard, and do you know where I found Ken, Jimmy?" Gosling said. "A face covered in dirt next to a crushed lemon."
Gosling sent Gerwig a photo of the discarded doll to confirm that he was ready to properly honor Ken's memory.
"I'll be your Ken," he wrote. "For his story must be told."
"It's tough," Gosling said. "Many people don't know this, but George Lucas created The Force based on Kenerji. It has always been there. I can't even really get into it. We have no time. Being Ken is a lot, but we need to talk about Ken at some point."