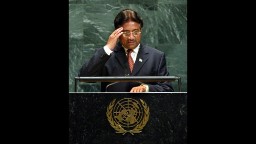 Father: Syed Musharraf Uddin, career diplomat
Mother: Begum Zarin Musharraf
Wedding: Sehba Musharraf (December 1968 – present)
Children: Isla; Bilal
Education: Pakistan Military Academy, 1961; Kakula Military Academy, 1964
Religion: Muslim
Schedule
1947- Musharraf's family moves to Pakistan as British India divides into India and Pakistan. The family settles in Karachi.
1949-1956 – He spends his early childhood in Turkey because of his father's business trip to Ankara.
1964- Received the rank of Second Lieutenant of the Pakistan Army Artillery Regiment.
1965 – Was awarded the Imtiazi Sanad (medal) for gallantry during the Indo-Pakistani War of 1965.
1971 – A company commander in a commando battalion during the India-Pakistan War.
1991 – He was promoted to major general.
October 7, 1998 – He was appointed chief of staff of the army with the rank of general.
April 9, 1999 – He was appointed chairman of the Joint Chiefs of Staff.
April 30, 2002 – A referendum is being held on whether Musharraf will hold office for another five years; it goes by a wide margin.
August 2002 – Makes 29 amendments to the constitution, granting himself the right to dissolve parliament and remove the prime minister.
December 14 and 25, 2003 – Two attempts on Musharraf's life fail.
January 1, 2004 – A vote of confidence in parliament allows Musharraf to remain in power until 2007. He is gaining the votes he needs, promising to step down as head of the army at the end of 2004.
September 25, 2006 – Musharraf's autobiography, In the Line of Fire, was published.
October 6, 2007 – An unofficial vote count shows that Musharraf won a landslide victory in the presidential election. A number of parliamentarians boycotted the vote in both chambers.
November 3, 2007 – President Musharraf declared a state of emergency in Pakistan. He suspends the country's constitution, postpones elections in January 2008, and imposes restrictions on the media. Authorities arrest 1,500 people protesting the state of emergency.
November 28, 2007 – Resigns as leader of the Pakistani army the day before he is due to be sworn in as president.
November 29, 2007 – Takes the presidential oath for the third time.
December 15, 2007 – The state of emergency has been lifted.
August 18, 2008 – Announces his resignation as President of Pakistan.
July 31, 2009 – Pakistan's Supreme Court ruled that Musharraf violated the constitution by illegally declaring a state of emergency on 3 November 2007. The court gives him seven days to appear and defend himself.
August 6, 2009 – Refuses to answer the charges against him and flees from Pakistan to the UK.
August 11, 2009 – Pakistani officials announce that Musharraf faces arrest if he returns to Pakistan.
February 12, 2011 – Musharraf's arrest warrant was issued by a Pakistani court in connection with the assassination of former Prime Minister Bhutto.
March 16, 2013 – Musharraf announces his plans to return to Pakistan to lead his party in the upcoming elections.
March 23, 2013 – The Pakistani Taliban say they will kill Musharraf if he returns to the country.
March 24, 2013 – Musharraf returns to Pakistan after four years in exile. He was released on bail before arriving in Pakistan, so he was not arrested upon his return.
April 3, 2014 – The bomb explodes minutes after Musharraf's convoy passes an intersection in Islamabad as he is being driven home from a military hospital. Pakistani police say this is an assassination attempt on Musharraf. No harm done.
March 16, 2016 – Pakistan's Supreme Court lifts Musharraf's entry ban, allowing him to leave the country while he awaits trial on treason charges. Two days later, Musharraf leaves Pakistan to seek medical attention in Dubai.