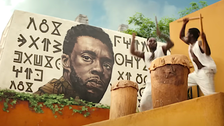 Coogler also introduced new actors in the upcoming film, including Dominic Thorne as Riri Williams (Ironheart) and Tenocha Huerta as Namor the Submariner.
"I come from the area and I wouldn't be here if it wasn't for the inclusive," Huerta said. "Kids in hoods look at us and dream of being here."
The trailer features returning characters after the death of T'Challa Boseman, introduces Namor and the kingdom of Atlantis, and introduces the mysterious new Black Panther.
The scenes are connected by the motif of a remix of the Bob Marley song "No woman No Cryand "It'll be alright" from Kendrick Lamar's "Alright" and moves through underwater, ritual and scenes.
"I am the queen of the most powerful nation in the world, and my whole family is no more," says Angela Bassett's Ramonda in one of the scenes.
The film will hit theaters in November. eleven.