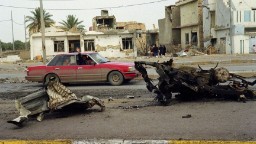 The Allied coalition consisted of 39 countries.
: Afghanistan, Argentina, Australia, Bahrain, Bangladesh, Belgium, Canada, Czechoslovakia, Denmark,
Egypt,
France, Germany, Greece, Honduras, Hungary, Italy, Kuwait, Morocco, Netherlands, New Zealand, Niger, Norway, Oman,
Pakistan,
Poland, Portugal, Qatar,
Saudi Arabia,
Senegal, Sierra Leone, Singapore, South Korea, Spain, Sweden,
Syria,
Turkey, United Arab Emirates, UK and USA.
US Department of Defense
estimated additional costs for the Gulf War at $61 billion, of which US allies provided about $54 billion—Kuwait, Saudi Arabia, and other Gulf states covered $36 billion. Germany and
Japan
amounted to 16 billion dollars.
Estimates of Iraqi soldier deaths range from 1,500 to 100,000.
Schedule
November 29, 1990 – The UN Security Council authorizes the use of force after January 15, 1991.
January 16-17, 1991 – The air campaign for Operation Desert Storm begins.
February 23-24, 1991 – Allied ground attack begins.
February 27, 1991 – Radio Baghdad reports that Iraq will comply with UN resolutions.
February 27, 1991 – Kuwait is liberated.
February 28, 1991 – Coalition attacks on Iraq are ending.
March 14, 1991 – The Emir of Kuwait returns home after more than seven months in exile.
April 6, 1991 – Iraq accepts the terms of the ceasefire agreement.