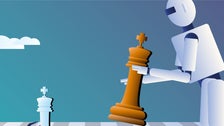 Last week, a chess robot defiantly broke the finger of its opponent: a 7-year-old boy.
Chess officials said the robot reacted to the sudden movement and accused the boy of violating safety protocol by acting like a child. But they admitted that it was very "bad" for the robot.
The video shows the robotic arm pinching the boy's finger for several seconds before the adults rush to free the child and take him away.
" robot broke child's finger, – Sergey Lazarev, president of the Moscow Chess Federation, told TASS. He noted that the car played without problems with many other competitors.
But "this, of course, is bad," admitted Lazarev.
Lazarev told TASS that the boy, identified only as Christopher, did not appear "too traumatized" by the attack. They put a cast on his finger and he played the next day.
However, his parents reportedly contacted the prosecutor's office.