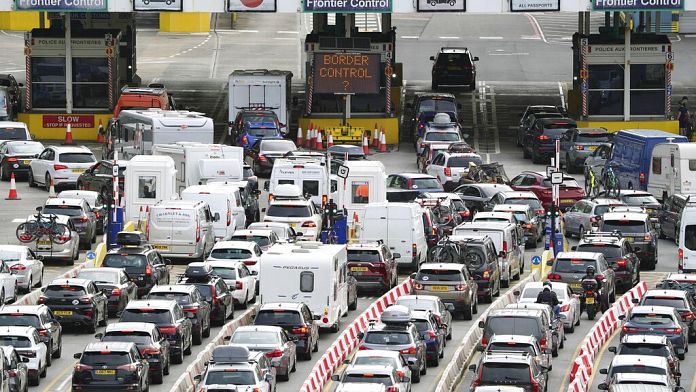 The cross-channel dispute erupted after a weekend of chaos at the port of Dover, with vacationers and cargo workers queuing for hours at border controls.
Some drivers said they were unable to move for more than six hours, quickly running out of snacks and patience as images of stationary vehicles circulated on social media.
British politicians were quick to blame France for disrupting travel, with Foreign Secretary Liz Truss, who is campaigning to replace Prime Minister Boris Johnson, saying French staff shortages were to blame.
On Saturday at a campaign rally in Kent near Dover, Truss said: "The fact is that the French authorities did not put enough people on the border."
"This situation was caused by a lack of resources at the border, and this is something that the French authorities must solve," she said.
France denied the accusations, and Transport Minister Clement Bon tweeted that Britain's political decisions were responsible for the deadlock that took place over the weekend.
"The French authorities are ready to control our borders and facilitate the movement as much as possible. But France is not responsible for Brexit," Bon said.
Right-wing Calais MP Pierre-Henri Dumont echoed the sentiment, writing on social media that the delays were a "consequence of Brexit" and not a failure by the French authorities.
Since the UK left the European Union in 2020, British tourists and travelers have experienced an increase in document checks at borders, meaning the process is slower than before the transition.
Passengers are generally advised to arrive 60-90 minutes prior to departure to go through security. However, last weekend the ferry companies asked passengers to arrive at Dover at least three hours early, and some still missed boarding.
Brexit Opportunity Minister and Liz Truss supporter Jacob Rees-Mogg put the blame on the French, telling The Telegraph that British holidays are being "sabotaged" by France's "incompetence".
In a strange turn of events in this ongoing war of words, campaign group Led By Donkeys joined the lineup of cars and trucks by showing videos of British Conservative politicians on the big screen during the 2016 Brexit campaign.
Rees-Mogg was seen in one of the clips promising "delays won't be in Dover, they will be in Calais".
The video has received thousands of likes and retweets since it was posted on Monday, due to the stark contrast between the 2016 Brexit promises and the difficult situation in Dover over the weekend.
As of this morning, congestion has eased and port officials have once again announced "normal traffic flow" at the border and "minimum downtime" for cars and trucks.
This comes after their statement this morning, which called resources on the French border "grossly inadequate" despite the expected large number of travelers heading to France at the start of the summer holiday.
As we head into next weekend's second busiest summer period, British and French authorities will need to work together to ensure they have sufficient resources to limit similar disruptions next weekend.