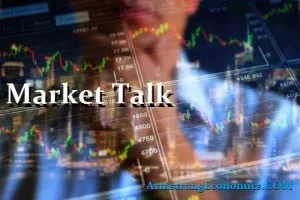 ASIA:
China's new household deposits rose by more than a third year on year to a record $1.5 trillion in the first half of 2022, according to official data, while private bank borrowing fell by more than half over the same period. The inversion of savings rates followed an increase in bank deposits as Chinese savers sought safe options for their assets, and the economic downturn took a toll on personal spending. China's economy narrowly escaped contraction in the second quarter, expanding 0.4% year on year in the three months to the end of June. Long-term real estate development loans fell by a quarter in the first half of 2022 compared to last year after many real estate companies, mainly Evergrande, defaulted on their debt repayment obligations. Infrastructure development, another important source of long-term credit, is also lagging behind as debt-laden local governments, the main benefactor of roads and bridges, struggle to raise capital.
India's central bank governor Shaktikanta Das said India's central bank is completely intolerant of volatile and uneven movements of the rupee against the US dollar and is engaging with foreign exchange markets to stem the rupee's fall and find an appropriate level. The rupee touched its all-time low, breaking the psychological 80 per dollar last week, prompting India's central bank, the Reserve Bank of India (RBI), to sell the dollar aggressively. Das said the rupee's movements were relatively smooth and orderly due to the RBI's actions in the foreign exchange market. The rupee last traded at 79.90/91 per dollar on Friday, compared to Thursday's close at 79.9450.
Today was a mixed day for major Asian stock markets:
The NIKKEI 225 was down 215.41 points, or -0.77%, at 27,699.25.
Shanghai fell 19.59 points or -0.60% to 3250.39.
The Hang Seng shed 46.20 points, or -0.22%, at 20,562.94.
The ASX 200 was down 1.60 points, or -0.02%, at 6,789.90.
Kospi rose 10.55 points or 0.44% to 2403.69.
SENSEX was down 306.01 points or -0.55% to 55,766.22.
Nifty50 fell 88.45 points or -0.53% to 16,631.00.
Today was a mixed day for the major Asian currency markets:
AUD/USD rose 0.00376, or 0.54%, to hit 0.69613.
NZDUSD rose 0.00165 or 0.26% to hit 0.62685.
USDJPY rose 0.626, or 0.46%, to hit 136.696.
USDCNY edged down 0.00341 or -0.05% to hit 6.75369.
Precious metals:
l Gold fell by $5.45/t. or -0.32% to 1723.61
l Silver fell by $0.130/t. oz or -0.70% to 18.492
No economic news from last night:
Some economic news for today:
Hong Kong:
Exports (MoM) (June) decreased from -1.4% to -6.4%.
Imports (MoM) (June) decreased from 1.3% to 0.5%.
The trade balance decreased from -36.7 billion to -68.5 billion.
Singapore:
CPI (YoY) (June) up from 5.6% to 6.7%
EUROPE/EMEA:
UK industrial production grew at its slowest pace in more than a year in the three months to July. A survey conducted by the Confederation of British Industry showed that there are tentative signs of easing some inflation and investment concerns, which could boost the region's economic growth. The Bank of England's Monetary Policy Committee (MPC), which is scheduled to meet next meeting, must decide to raise interest rates by 50 basis points to deal with the highest inflation in 40 years. Quarterly inflation expectations – a key concern for the BoE as it assesses how long high inflation will last – fell sharply to +48 from a record high of +71 in April. The CBI Industrial Trends Survey manufacturing balance fell to +6 in July from +19 in April on Monday, the lowest level in the three months to April 2021 but still above its long-term average of +2. CBI's monthly industrial order balance fell to +8 from +18, the lowest level since October but above its long-term average of -13.
A survey by German think tank IFO and released on Monday showed German business morale has tumbled as rising commodity and fuel prices dampen growth prospects. The IFO Business Climate Index fell nearly four points from 92.2 in June to 88.6 in July. The index measures business confidence in the current environment compared to the benchmark set in 2015. The survey was conducted among about 9,000 business managers in Germany. The fall in confidence represents a new downward trend after more than a year of recovery from lows seen in early 2020 when the coronavirus pandemic hit. The confidence index for July is the lowest since June 2020.
Major European stock markets had a mixed day:
CAC 40 increased by 20.73 points or 0.33% to 6,237.55.
The FTSE 100 rose 29.93 points, or 0.41%, to 7,306.30.
The DAX 30 was down 43.36 points, or -0.33%, at 13,210.32.
The major European currency markets had a green day today:
EURUSD rose 0.00018 or 0.02% to hit 1.02163.
GBPUSD rose 0.0043 or 0.36% to hit 1.20474.
USDCHF rose 0.00369 or 0.38% to hit 0.96499.
Some economic news from Europe today:
GREAT BRITAIN:
CBI Industrial Trends orders (July) decreased from 18 to 8
Germany:
Business expectations in Germany (July) fell from 85.5 to 80.3.
Germany's current score (July) has dropped from 99.4 to 97.7.
The German Ifo business climate index (July) fell from 92.2 to 88.6.
USA/AMERICANS:
Markets are gearing up for an important week with multiple earnings reports, GDP data and the next Fed meeting. The GDP report is due on Thursday. The White House has changed the definition of "recession" and will no longer name two consecutive quarters of recession as one – a potential indicator of what to expect. However, markets may value this differently. Markets are also looking for a 75 basis point increase in the Federal Reserve's interest rate, but a June inflation report of 9.1% could force them to act more aggressively. The Federal Reserve will announce its next move on Wednesday.
Boeing's outlook improved after Delta placed a massive order last week. Now 2,500 workers have announced that they will go on strike on August 1st. Union workers claim that the company did not comply with their demands. Boeing said they increased their 401K contributions to 10%, implemented additional payroll over the next two years, and equalized student loan payments for their employees' children. The union is seeking a 7.2% pay rise as well as a $1,000 cash bonus. If the strike does happen, the company will not be able to meet its new orders on time, causing problems for the aerospace company and possibly Dow as a whole.
US Market Closing:
The Dow rose 90.75 points, or 0.28%, to 31,990.04 points.
The S&P 500 rose 5.21 points, or 0.13%, to 3966.84.
The Nasdaq fell 51.45 points or -0.43% to 11,782.67.
Russell 2000 advanced 10.89 points or 0.6% to 1817.77.
Closing the Canadian Market:
The TSX Composite advanced 121.56 points or 0.64% to hit 19,104.48.
The TSX 60 rose 6.87 points or 0.6% to hit 1156.35.
Brazil Market Closing:
Bovespa advanced 1,345.03 points, or 1.36%, to 100,269.85.
ENERGY:
It was a green day in the oil markets today:
Crude oil rose $1.83/bbl, or 1.93%, to $96.616.
Brent rose by $1.38 per barrel. or 1.34% to 104.713.
Natural gas rose $0.378/mbtu, or 4.55%, to 8.6570.
Gasoline rose $0.1515/gal, or 4.70%, to $3.3726.
Heating oil rose $0.079/gallon, or 2.29%, to $3.5292.
The above data was collected around 13:57 EST on Monday.
Commodity growth leaders: natural gas (4.55%), bitumen (3.06%), gasoline (4.70%) and cocoa (3.27%).
The main losers were oats (-1.66%), aluminum (-2.19%), lumber (-4.05%) and sugar (-2.35%).
The above data was collected around 2:09 pm EST on Monday.
CONNECTION:
Japan 0.201% (-1.8 bp), American 2-s. 3.03% (+0.042%) US 10s 2.8197% (+3.87 b.p.); US 30s 3.05% (+0.051%), Bunds 1.0220% (-0.1 bp), France 1.6150% (-0.5 bp), Italy 3.384% (-3.6 bp), Turkey 16.71% (-11 bp), Greece 3.045% (-23.7 bp), Portugal 2.184% (-0.7 bp); Spain 2.275% (+1.5 bp) and UK gilts 1.9380% (-0.3 bp).