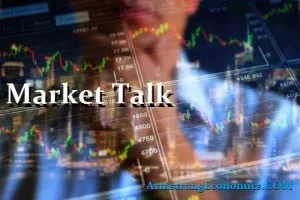 ASIA:
Ant Group executives are no longer part of the Alibaba Partnership, the body that can appoint most of the e-commerce giant's board of directors, Alibaba said in an annual report released Tuesday. since the two companies parted ways after China's massive regulatory oversight. The terms now only allow Alibaba employees to be part of the partnership. Seven Ant Group executives, including CEO Eric Jing, have left Alibaba Partnership. Others include its chief technology officer and chief human resources officer. Two retired Alibaba executives also left the partnership, bringing the total number of Alibaba partners to 29 from 38 in 2021.
Bank of Japan policymakers viewed wage hikes as key to sustaining the 2% inflation target, highlighting the bank's determination to keep interest rates ultra-low despite growing signs of price pressure, minutes from the central bank's June meeting showed. Some members of the 9-member board saw the rise in prices hurt long-standing public opinion that inflation and wages would not rise much in the future. But members agreed that the economy needs massive monetary support to weather the blow from rising commodity prices and supply disruptions caused by China's COVID-19 lockdown. Core consumer prices in Japan rose 2.2% year-on-year in June, exceeding the Bank of Japan's target, mainly due to higher fuel and commodity prices driven by the war in Ukraine. Real wages, adjusted for inflation, a key matrix of consumer purchasing power, fell 1.8% year-over-year, continuing to fall to the biggest year-on-year drop in almost two years.
Today was a mixed day for major Asian stock markets:
The NIKKEI 225 was down 44.04 points, or -0.16%, at 27,655.21.
Shanghai added 27.05 points, or 0.83%, to 3277.44.
Hang Seng rose 342.94 points or 1.67% to 20,905.88.
The ASX 200 rose 17.40 points, or 0.26%, to 6,807.30.
Kospi rose 9.27 points or 0.39% to 2412.96.
SENSEX was down 497.73 points or -0.89% to 55,268.49.
Nifty50 fell 147.15 points or -0.88% to 16,483.85.
Today was a mixed day for the major Asian currency markets:
AUDUSD fell 0.00087 or -0.13% to hit 0.69418.
NZDUSD dropped 0.00285 or -0.45% to hit 0.62355.
USDJPY rose 0.256, or 0.19%, to hit 136.612.
USDCNY rose 0.0153 or 0.23% to hit 6.76630.
Precious metals:
l Gold rose by $0.12/t. or 0.01% up to 1720.67
l Silver rose by $0.208/t. ounce or 1.13% to 18.604
Some economic news from last night:
Japan:
Corporate Services Price Index (CSPI) (YoY) increased from 1.9% to 2.0%
South Korea:
GDP (QoQ) (Q2) increased from 0.6% to 0.7%
GDP (yoy) (Q2) decreased from 3.0% to 2.9%
Some economic news for today:
Japan:
Bank of Japan core consumer price index (YoY) increased from 1.5% to 1.6%
Singapore:
Industrial production (MoM) (June) fell from 9.2% to -8.5%
Industrial production (y/y) (June) decreased from 10.4% to 2.2%
EUROPE/EMEA:
The UK imposed sanctions on Kremlin-imposed officials in the Luhansk and Donetsk regions in eastern Ukraine, as well as 29 regional governors across Russia, in response to Russia's invasion of Ukraine earlier this year. The 42 new faces added to British sanctions against Russia also include a Russian minister and deputy justice minister, as well as two nephews of Russian billionaire Alisher Usmanov, who himself came under British sanctions in March. Vitaly Khotsenko and Vladislav Kuznetsov, the Russian-appointed prime minister and first deputy chairman of the so-called Donetsk and Luhansk People's Republics, are now subject to a travel ban and asset freeze, the UK Foreign Office has said.
The UAE and France will work in partnership to maximize the social and economic benefits of climate action to help stimulate the green economy and create "new industries, skills and jobs of the future." The Office of the UAE Special Envoy for Climate Change and the French government signed an agreement to further strengthen cooperation on pressing environmental issues as part of President Sheikh Mohammed's state visit to Paris. The UAE in 2016 became the first country in the Middle East to sign the Paris Agreement, which calls for limiting global warming to well below 2°C, preferably 1.5°C, compared to pre-industrial levels. The agreement between the UAE and France was signed in the French capital by Dr. Sultan Al Jaber, Minister of Industry and Advanced Technology and UAE Special Envoy for Climate Change, and Agnes Pannier-Runache, Minister of Transitional Energy of France.
There was a negative day on the main European stock markets:
CAC 40 fell 26.10 points or -0.42% to 6,211.45.
The FTSE 100 fell 0.02 points, or 0.00%, to 7,306.28.
The DAX 30 was down 113.39 points, or -0.86%, at 13,096.93.
The main European currency markets had a negative day today:
EURUSD fell 0.00922 or -0.90% to hit 1.01268.
GBPUSD fell 0.00171 or -0.14% to hit 1.20320.
USDCHF shed 0.0019 or -0.20% to hit 0.96250.
Some economic news from Europe today:
GREAT BRITAIN:
CBI Distribution Trades research (July) increased from -5 to -4.
Spain:
Spanish PPI (y/y) fell from 43.6% to 43.2%.
USA/AMERICANS:
Real estate in the US is starting to cool, but not by much. The S&P CoreLogic Case-Shiller National House Price Index reported that home prices rose 19.7% in May compared to the same period last year. May was the second consecutive month of lower home sales amid inflation fears and rising mortgage rates, but home prices remain high. The 10-city composite rose 19% year-on-year from 19.6% in April, while the 20-city composite rose 20.5% year-on-year from 21.2% compared to previous month.
The US Senate voted 64 to 32 to approve a bill to increase the production of semiconductor chips in America. The CHIPS-plus package, as you know, will provide domestic manufacturers with $52 billion to create a sought-after product, as well as provide tax incentives. National Security Adviser Jake Sullivan said America's reliance on China's semiconductor products poses a threat to overall security. "The longer we wait, the more dangerous the failure," he said.
US Market Closing:
The Dow dropped 228.5 points or -0.71% to 31,761.54.
The S&P 500 was down 45.79 points, or -1.15%, at 3921.05.
The Nasdaq fell 220.09 points or -1.87% to 11,562.58.
Russell 2000 fell 12.53 points or -0.69% to 1805.25.
Closing the Canadian Market:
The TSX Composite dropped 131.8 points, or -0.69%, to 18,972.68.
The TSX 60 was down 7.75 points, or -0.67%, at 1148.6.
Brazil Market Closing:
Bovespa was down 498.16 points, or -0.5%, at 99,771.69.
ENERGY:
Oil markets have had a mixed day today:
Crude oil fell $0.79/bbl, or -0.82%, to $96.078.
Brent fell $0.25/bbl, or -0.24%, to $105.071.
The price of natural gas rose $0.247/mm Btu, or 2.83%, to $8.9580.
Gasoline was down $0.059/gallon, or -1.74%, at 3.3173.
Heating oil rose $0.091/gallon, or 2.59%, to $3.6029.
The above data was collected around 13:31 EST on Tuesday.
Commodity growth leaders: soybeans (3.84%), wheat (3.73%), palm oil (3.87%) and orange juice (4.28%).
The main commodities losers were rhodium (-2.60%), crude oil (-0.82%), lumber (-5.63%) and gasoline (-1.74%).
The above data was collected around 13:37 EST on Tuesday.
CONNECTION:
Japan 0.204% (+0.3 bp), US 2s 3.05% (+0.014%), US 10s 2.7904% (-2.96 bps); US 30s 3.01% (-0.040%), Bunds 0.9370% (-9.3 bps), France 1.5320% (-8 bps), Italy 3.349% (-3.5 b.p.), Turkey 16.73% (+2 b.p.), Greece 2.993% (-10.5 b.p. b.p.), Portugal 2.084% (-7.5 b.p.) .); Spain 2.167% (-6.5 bp) and UK gilts 1.9230% (-1.5 bp).
Fast Market Talk – July 26, 2022 first appeared on Armstrong Economics.