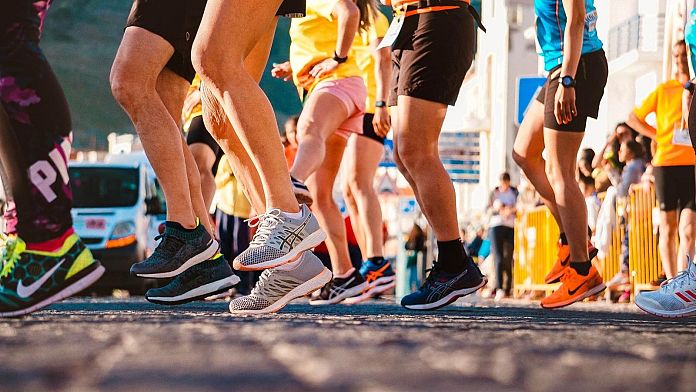 Running and outdoor exercise have become extremely popular over the past few years, with global Google searches for "running" up 22% year on year.
As more people take to the streets for their daily workouts, French athletic shoe brand HOKA has published a study on the environmental factors that can affect runners' physical health.
The brand looked at seven key factors that can impact outdoor running and exercise, such as air pollution, road traffic CO2 emissions data, green space, walking distance, average temperature, humidity levels and water quality, to find the best cities in the world. enjoy an active life.
Overall, according to the study, Europe is the best continent for runners, with eight of the top 10 cities located on the continent, with Australia coming in two.
From air quality to road conditions, here are the top 10 cities in the world to get in shape and get active outdoors.
10. Copenhagen, Denmark – Copenhagen just got into the top ten. Copenhagen is the city with the lowest traffic CO2 emissions in the index – just 1610g for a round trip – and the best Air IQ of 0/100. A low average temperature of 10°C and a humidity level of 79 percent make it a very good option for runners if they are ready for cold and wet weather.
9. Barcelona, ​​Spain – This famous Spanish city is in the ninth position. Although there is little green space, this city is ideal for urban running due to its 100/100 walkability score and low CO2 emissions (3304 grams per round trip).
If you're looking to add some resistance to your running routine, running up Mount Tibidabo is guaranteed to hurt your muscles, but at the same time, you'll enjoy great views of all of Barcelona and its coastline.
8. Sydney, Australia – In eighth position is the first of two Australian cities to make it into the top ten of the index, Sydney. Sydney and its stunning beaches like Bondi or Marley Beach have a 100/100 passable rating, 17°C temperatures and a very low 57% humidity level.
7. Lisbon, Portugal – Lisbon is ranked seventh in the HOKA ranking. Portugal's capital scored 99 out of 100 for walkability, and its average temperature of 18 degrees Celsius makes running through the beautiful and colorful streets an unforgettable experience.
Jogging through the Alfama area will take you back to the time of the Romans and Moors – not only a beautiful sight, but high inclinations will push your limits.
6. Berlin, Germany – In sixth position is Berlin, one of the flattest cities in the world. The German capital also has very low CO2 emissions from road traffic, at just 2,419g per round trip, which means better air quality for your mileage.
With its low average temperature of 11.5°C and humidity level of 69 percent, runners should be sure to cover up to avoid skin damage while running through this historic and emblematic city.
5. Stockholm, Sweden – Stockholm is in the top five. With significantly low CO2 emissions (2377g roundtrip) and a walkability score of 99/100, Stockholm is a great place to run. A low average temperature of 10.5°C and high humidity (75 percent) may mean waterproof clothing is recommended when running through this city and the 50 bridges that connect its 14 islands.
4. Rome, Italy – On the fourth position is one of the oldest cities in the world – Rome. This food lover's paradise is also one of the best cities for runners, with an average temperature of 17.5°C, an air quality rating of 12/100, and a walkability score of 99/100. Give your body an extra boost by finishing your run up and down the Plaza España stairs.
3. Melbourne, Australia – Melbourne is in the top three. This city, also known as the "Sports Capital of the World", has a walkability score of 99/100 and has an average temperature of 17°C. With low humidity levels (52 percent) and a very high air quality score, this bayside location has ideal running conditions, including the Royal Victorian Botanic Gardens.
2. Santa Cruz de Tenerife, Spain. With 82% green space and an average temperature of 22 degrees Celsius, Santa Cruz de Tenerife comes in second. Tenerife, located in the Canary Islands, is like a desert. Humidity levels are 61% and water quality levels are 65%, so runners will need to prepare bottled water for their run as dehydration can occur, although you can cool off afterwards with a swim at one of the island's many beaches, including Los Cristianos. or Costa Adeje.
1. Vienna, Austria – Ranked as the best city for runners, Vienna scores 100/100 for walking comfort, making running around the city very smooth and also offering plenty of green space. The gardens of Schönbrunn Palace are accessible to the public, for example, to enjoy a walk in nature.
Vienna also has very low CO2 emissions from road traffic, at 1696 grams per round trip, providing one of the lowest levels of pollution in the top ten, second only to Copenhagen.
Thus, all of the above makes Vienna a dream city for runners, although the average temperature is 13.5°C and average humidity or 62 percent means your run is likely to be wet.
honorable mentions
London, meanwhile, is the only city in the UK featured in the index to narrowly miss the top ten, coming in at 11th.
No US city ranks in the top 10, but the US is the country with the most cities in the top 40 of the index, with Denver ranking highest at 12, followed by San Diego and New York at 15 -m and 16th positions.