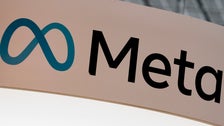 Meta, parent company facebook and Instagram announced on Tuesday that they would consider relaxing their COVID-19 misinformation policy to allow posts that make false claims about the coronavirus to remain on the platform.
The company has removed more than 25 million pieces of content, including false pandemic claims related to masks, social distancing and vaccines, since the start of the pandemic, Meta Senior Executive Nick Clegg. stated in the move.
Clegg, the company's president of global communications, said Meta is now turning to its review board – a panel of externally appointed experts to weigh content moderation decisions – to decide whether the practice is still "appropriate." Instead of removing these pieces of content, Meta may instead flag them, demote them, or use a third-party fact-checking system to rate them.
"As the pandemic evolves, it is time for us to seek the opinion of the Review Board on our measures to counter disinformation about COVID-19, including whether those introduced in the early days of the extraordinary global crisis remain the right approach for several months. and for years to come," Clegg said. "The world has changed significantly since 2020."
The company began implementing an expanded disinformation policy in January 2020, which resulted in the "removal of entire categories of false claims worldwide."
Clegg said that while each country is at different stages in its fight against the coronavirus, the landscape is definitely different from 2020.
"The pandemic itself has also evolved. In many countries where vaccination rates are relatively high, life is increasingly returning to normal. But this is not the case everywhere, and the course of the pandemic will continue to vary significantly around the world," Clegg said.
Incidence worldwide continues to increase due to the spread of the highly contagious variant BA.5, which is showing increasing resistance to existing vaccines and prior exposure. according to Reuters.
Meta also faces a tough business environment. The company is expected to release its long-awaited second-quarter results on Wednesday as investors keep an eye on its advertising business and how it's handling stiff competition from rival platforms like TikTok. according to CNBC.