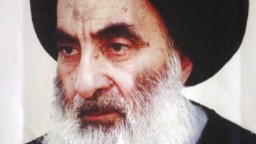 Father: Sayyid Mohammad Baqir, religious scholar
Mother: Names not publicly available
Wedding: Information is not publicly available
Children: Muhammad Rida al-Sistani is the eldest son. The total number of children not available in public.
Religion: Shiite Muslim
Other facts
He is a member of a prominent family of religious scholars and began studying at the age of 5.
Rarely gives interviews or appears in public.
Schedule
1952- Sistani moves to the holy city of Najaf in Iraq to study with Shia clerics there.
1990- He was chosen by other religious figures to lead an important network of schools in Najaf.
September 2002 – Issues its first political fatwa, calling on Muslims to unite and defend Iraq from external aggressors.
April 2003 – Sistani's house arrest was lifted after the US invasion of Iraq. Sistani issues his second political fatwa, urging the Iraqi people to remain neutral and not interfere in the affairs of US troops.
June 3, 2004 – Sistani supports the new Iraqi government. Says the new government lacks "election legitimacy" and does not "in an acceptable way represent all segments of Iraqi society and political forces… However, it is hoped that this government will prove its effectiveness and integrity and demonstrate determination to continue from the enormous tasks that lie on his shoulders."
August 3-26, 2004 – Fighting covers the city of Najaf. Militias loyal to Iraqi cleric Muqtada al-Sadr fight US troops for control of the territory.
August 6, 2004 – Sistani, who rarely leaves his home in Najaf, travels to London to be treated for heart problems.
August 25, 2004 – Sistani returns to Iraq and begins negotiations for a ceasefire in Najaf. Before his return, he asks all Iraqis to "go to Najaf to save the city".
February 13, 2005 – The results of the elections in Iraq on January 30, 2005 are published. Sistani's United Iraqi Alliance ranks first with over four million votes.
December 2008 – Sistani supports the proposal of the Iraqi government and the US to withdraw troops.
January 2009 – Issues a statement calling on Iraqis to vote in the upcoming provincial elections, but says he does not support any candidate.
March 2011 – To express his dissatisfaction with Iraq's political leaders, Sistani refuses to meet with them.
March 2013 – Sistani issues a fatwa prohibiting the shedding of Iraqi blood, especially Sunni blood.
January 16, 2020 – He underwent successful surgery for a fractured femur.