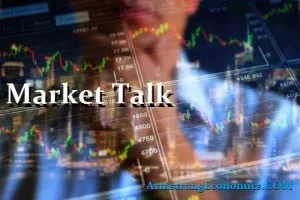 ASIA:
Singapore's GIC sovereign wealth fund reported solid year-over-year returns but warned of "profound uncertainty" as investors grapple with concerns over inflation, pandemic risks and geopolitical issues. The fund's portfolio posted an annual nominal dollar return of 7% for the 20-year period ending March 31, 2022, GIC said in its annual report released Wednesday. GIC, a private firm wholly owned by the Singapore government, manages Singapore's reserves with the Monetary Authority of Singapore and public investor Temasek Holdings. The fund said the move to higher inflation would have significant implications for investment.
Today was a mixed day for major Asian stock markets:
The NIKKEI 225 was up 60.54 points, or 0.22%, at 27,715.75.
Shanghai fell 1.68 points or -0.05% to 3,275.76.
Hang Seng shed 235.84 points or -1.13% to hit 20,670.04.
The ASX 200 rose 15.90 points, or 0.23%, to 6,823.20.
Kospi rose 2.57 points or 0.11% to 2415.53.
SENSEX increased by 547.83 points or 0.99% to 55,816.32.
Nifty50 increased by 157.95 points or 0.96% to 16,641.80.
Today was a mixed day for the major Asian currency markets:
AUDUSD fell 0.00225 or -0.32% to hit 0.69275.
NZDUSD dropped 0.00288 or -0.46% to hit 0.62042.
USDJPY rose 0.319 or 0.23% to hit 137.284.
USDCNY fell 0.00509 or -0.08% to hit 6.76101.
Precious metals:
l Gold rose by $3.90/t. or 0.23% up to 1717.54
l Silver rose by $0.066/t. ounce or 0.35% up to 18.659
Some economic news from last night:
China:
Chinese manufacturing profit (YoY) (June) increased from -6.50% to 0.80%.
Profit in Chinese industry since the beginning of the year (June) has not changed and amounted to 1.0%
South Korea:
Consumer confidence index (July) fell from 96.4 to 86.0.
Australia:
CPI (QoQ) (Q2) decreased from 2.1% to 1.8%
CPI (y/y) (Q2) increased from 5.1% to 6.1%
The consumer price index (Q2) increased from 123.90 to 126.10.
Truncated Average CPI (QoQ) (Q2) increased from 1.4% to 1.5%
Truncated Average CPI (YoY) (Q2) increased from 3.7% to 4.9%
Weighted average CPI (yoy) (Q2) increased from 3.2% to 4.2%
Weighted average CPI (QoQ) (Q2) increased from 1.0% to 1.4%
Some economic news for today:
Japan:
Match indicator (MoM) decreased from 0.0% to -1.9%
The leading index (MoM) fell from 2.1% to -1.7%
The leading index fell from 102.9 to 101.2.
EUROPE/EMEA:
The International Monetary Fund has warned that next year the UK will have the slowest growth among the richest G7 economies. He forecasts UK growth to fall to just 0.5% in 2023, well below April's forecast of 1.2%. The IMF cut its 2022 global growth forecast to just 3.2% and warned that the slowdown could be even worse. It says soaring prices are to blame for much of the economic slowdown as households and businesses suffer from a combination of higher prices and higher borrowing costs as policymakers raise interest rates to try to counter inflation. The G7 economies of Canada, France, Germany, Italy, Japan, the US and the UK are now about 15% likely to go into recession – almost four times higher than usual.
Spain raised inflation forecasts for 2022 and 2023 and lowered its economic growth target for 2023, Economy Minister Nadia Calvino said on Tuesday, citing the ongoing negative impact of the war in Ukraine on the European economy. The inflation target was raised to 7.8% in 2022 from the previous 6.1% planned in April, and for 2023 it was revised upward to 2.9% from 2.2%. Spain's annual inflation topped 10% for the first time in 37 years in June, driven by rising energy and food prices, prompting the government to raise its consumer price expectations. The statistical office of the country should publish data on GDP growth for the second quarter at the end of this week. The International Monetary Fund also revised its growth forecast for Spain from 4.8% to 4% in 2022. The IMF expects 2% growth in 2023.
Major European stock markets had a green day:
CAC 40 increased by 46.49 points or 0.75% to 6,257.94.
The FTSE 100 rose 41.95 points, or 0.57%, to 7,348.23.
The DAX 30 rose 69.45 points, or 0.53%, to 13,166.38.
The major European currency markets had a green day today:
EURUSD rose 0.00031 or 0.03% to hit 1.01333.
GBPUSD rose 0.00201 or 0.17% to hit 1.20565.
USDCHF rose 0.00157 or 0.16% to hit 0.96417.
Some economic news from Europe today:
Germany:
GfK consumer climate in Germany (August) decreased from -27.7 to -30.6.
France:
The consumer confidence index in France (July) fell from 82 to 80.
Italy:
Italian business confidence index (July) fell from 109.5 to 106.7.
Consumer confidence index in Italy (July) fell from 98.3 to 94.8.
Switzerland:
ZEW expectations (July) increased from -72.7 to -57.2.
Euro area:
Money supply M3 (y/y) (June) increased from 5.6% to 5.7%
Loans to non-financial corporations (June) increased from 5.8% to 6.8%.
Private sector loans (YoY) flat at 4.6%
USA/AMERICANS:
The Federal Reserve raised rates by 75 basis points (2.25%-2.5%) in consecutive meetings to fight inflation. Recent spending and production figures have softened," the statement began, modified from the first statement last month with an upbeat tone that said economic activity is gaining momentum. The central bank noted in a report this month that there is a sharp increase in food prices, whereas previously only energy was mentioned. All members unanimously approved the rate hike.
The Fed's balance sheet continues to improve at a moderate pace. The total is down $16 billion since the company began cutting $9 trillion in assets on its balance sheet. The current limit is $47.5 billion, but it is expected to rise to $95 billion per month by September. The Federal Open Market Committee will not meet until September. However, this August they will gather for the annual retreat in Jackson Hole.
US Market Closing:
The Dow rose 434.46 points, or 1.37%, to 32,196.00.
The S&P 500 rose 102.27 points, or 2.61%, to 4023.32.
The Nasdaq added 469.85 points, or 4.06%, to 12,032.42.
Russell 2000 rose 43.09 points or 2.39% to 1848.34.
Closing the Canadian market:
The TSX Composite advanced 281.88 points, or 1.49%, to trade at 19,254.56.
The TSX 60 edged up 16.83 points or 1.47% to hit 1165.43.
Brazil Market Closing:
Bovespa climbed 1666.27 points, or 1.67%, to 101,437.96.
ENERGY:
Oil markets have had a mixed day today:
Crude oil rose $2.78/bbl, or 2.93%, to $97.715.
Brent rose $2.35/bbl, or 2.25%, to $106.887.
Natural gas fell $0.299/mbtu, or -3.32%, to 8.7068.
Gasoline rose $0.0538 a gallon, or 1.60%, to $3.4040.
Heating oil rose $0.1185/gallon, or 3.31%, to $3.6991.
The above data was collected around 13:55 EST on Wednesday.
Commodity growth leaders: soybeans (2.98%), heating oil (3.31%), crude oil (2.93%) and orange juice (5.65%).
The main losers were cocoa (-2.12%), wheat (-1.90%), lumber (-1.98%) and natural gas (-3.32%).
The above data was collected around 2:02 pm EST on Wednesday.
CONNECTION:
Japan 0.203% (-0.1 bp), 2-s. US 3.06% (+0.020%), 10s USA 2.7685% (-1.85 bp); US 30s 3.01% (+0.0001%), Bunds 0.9430% (+1.5 bp), France 1.5370% (+1.2 bp), Italy 3.426% (+8.5 bp) , Turkey 17.37% (+64 bp), Greece 3.036% (+6.2 bp), Portugal 2.107% (+6.1 bp); Spain 2.185% (+6.7 bp) and UK gilts 1.9600% (+4.2 bp).