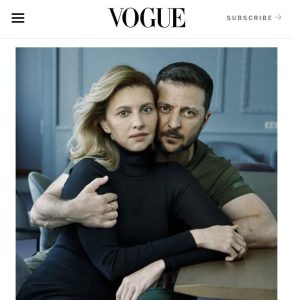 (Photo by Annie Leibovitz)
Latest models for the cover Fashion none other than Mr. and Mrs. Zelensky. The editors of Vogue have actually allowed the president to wear his favorite green military T-shirt, which he wears every day, like some kind of cartoon character.
The Art of War never mentioned posing for a high-end fashion magazine as a strategy. Times have changed. This is a strategic marketing ploy, as it begs Western politicians for billions of dollars. Vladimir and Elena are portrayed as young and fashionable political celebrities that we should root for, closing our eyes when our elected officials send them our money. No need to vote or ask where the money is being spent! They are great!
Only his former supporters seem to be buying into this new pitch, as the internet is rife with calls that the Zelenskys are tone-deaf at best. Multimillionaire Zelensky appears to be an ordinary man, when in reality he is extremely corrupt and wants the whole world to suffer with him. The average war-funding taxpayer can't afford a single Vogue item, but the West is fascinated by celebrity culture. Let's not forget that this year he appeared via video at the Grammys surrounded by rich and famous stars. The next generation of voters who will pay Zelensky's debt is influenced by these celebrities and magazines. Zelenskiy is using celebrity-obsessed Western culture to present himself as a good guy, completely ignoring his unwillingness to negotiate peace or admit that he provoked this war.