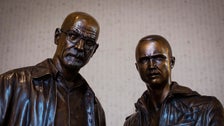 SANTA FE, NM (AP) — Bronze statues of mythical meth chefs Walter White and Jesse Pinkman were erected at the Albuquerque Convention Center on Friday to commemorate Breaking Bad and its entertainment legacy, drawing applause. in a city that played its own gritty supporting role.
Local politicians, including Albuquerque Mayor Tim Keller, met with Breaking Bad stars Bryan Cranston, Aaron Paul and director Vince Gilligan to help unveil the piece donated by Gilligan and Sony Pictures.
The 2008–2013 show and its ongoing prequel, Better Call Saul, helped revive filmmaking in New Mexico and also brought Albuquerque closer to the real fight against drug addiction and crime.
Gilligan said he understands that statues of "two fictional notorious meth dealers" will not be universally cherished in New Mexico.
"Seriously, some people will no doubt say, 'Wow, just what our city needs.' And I understand that," said Gillian. "I see two of the best actors America has ever produced. I see them in character as two incredible tragic figures, instructive stories.
Still a fixture on NetflixAMC's Breaking Bad series follows the fictional underworld trajectory of a high school science teacher played by Cranston and an ex-student played by Paul as they team up to manufacture and distribute methamphetamine amid violent, thrilling plot twists.
The show and its iconic characters are already featured on T-shirts and merchandise at the airport, and guides in Albuquerque escort shepherd fans to former filming locations in a replica of the show's van, which was also used as a meth lab.
New Mexico has long struggled with addiction: over the past three decades, more than 43,000 people have died from alcohol and drug overdoses. Albuquerque is also currently struggling with a record slew of murders.
The rise in methamphetamine and fentanyl overdose deaths surpassed heroin and prescription opioids as the top causes of drug overdose deaths in the state in 2020.
Keller heralded the positive economic impact of Breaking Bad and Better Call Saul on Albuquerque, noting the dollars and the joy they bring to the city, which he jokingly called "Tamale Wood."
"While the stories may be fictional, jobs are real every single day," Keller said. "The city is also a character. … We see ourselves in many ways, good and bad."
Republican state rep. Rod Montoya of Farmington said he admires Cranston as an actor, but the statues draw the wrong attention.
"I'm glad New Mexico got the order, but really?" Montoya said. "Are we going down the path of literally glorifying meth manufacturers?"
He also questioned the logic of the tribute after Albuquerque removed a statue of Spanish conqueror Juan de Oñate in June 2020.
Demonstrators tried to toss this bronze work of art in denunciation of Oñate's mistreatment of Native Americans approximately 500 years ago. A fight that started at the rally led to a shootout, as a result of which one person was wounded.
New Mexico politicians, including the governor. Michel Loujean Grisham are pinning their hopes on the film industry to expand economic opportunities in the state with the highest unemployment rate in the country.
New Mexico's film and television industry recently hit a new production peak, setting a record state spending of $855 million for the fiscal year ending in June. Recent government funded video projects include the Netflix series Stranger Things.
New Mexico offers a 25% to 35% rebate on state video production costs, helping filmmakers large and small pay for their work. In 2019, incentive payments peaked at $148 million.