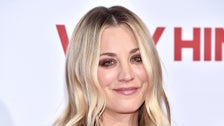 The 'Flight Attendant' star admired her new beau, the 'Ozark' actor Tom Pelphreyin honor of the 40th anniversary of a fellow actor.
"To the incredible man who saved me in every way… happy birthday baby!" Cuoco wrote in post on instagram on Thursday, along with a solo shot of a smiling Pelphrey.
"To know you is to truly adore you… the world lit up on your birthday," she wrote. "I love you!!"
"I would like to have a long-term relationship or partnership. But I will never marry again," the 36-year-old said, adding a resounding no.
"But I believe in love because I had an incredible relationship. I know they are there," she added. "I love being someone's partner and having that kind of interaction."