NEWNow you can listen to Fox News articles!
Thousands of followers of influential Shiite cleric iraqi parliament hacked Saturday, for the second time in a week, to protest efforts to form a government led by Iranian-backed groups.
Iraqi security forces first used tear gas and stun bombs to try to repel the demonstration and inflicted several injuries, which were witnessed by Associated Press journalists. Ministry of Health care said he received 60 injured patients.
The expected parliamentary session did not take place, and there were no deputies in the hall.
Heeding calls from cleric Muqtada al-Sadr, demonstrators used ropes to tear down cement barricades leading to the gates of the Iraqi Green Zone. There are official buildings and embassies of foreign states in the area.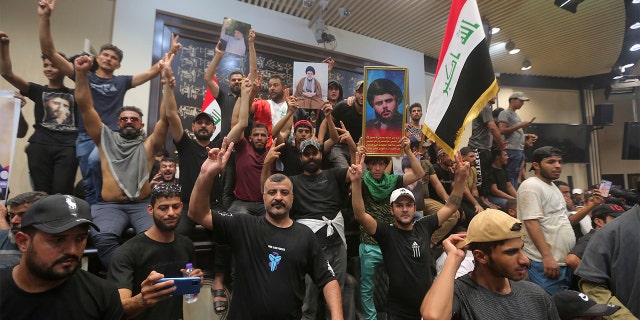 I GOT TOXIC FIRE PIT IN IRAQ; REPUBLICANS TURNED OFF VETERANS LIKE I
The demonstrators then occupied the parliament hall and raised Iraqi flag and portraits of al-Sadr. This was the second time in three days that the cleric had ordered his followers to stage a sit-in in the Green Zone. The protests are a pressure tactic used by the cleric to thwart government formation efforts led by his political rivals in the Framework Coalition, an alliance of Iranian-backed Shia parties.
Interim Prime Minister of Iraq According to the statement, Mustafa al-Kadhimi ordered the security forces to protect the demonstrators and asked them to maintain the peaceful nature of the protest. Inside the parliament building, the defense of the security forces became less intense and many were seen sitting and talking to the demonstrators.
Some protesters began to move from Parliament to the building of the Judicial Council.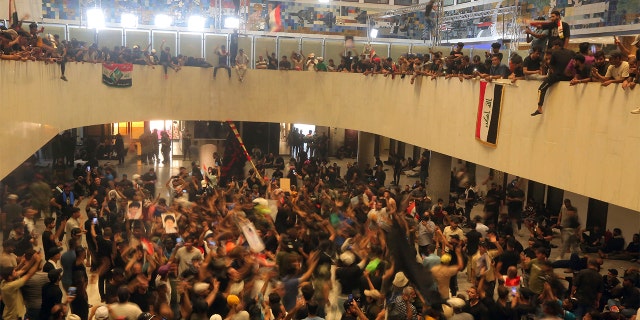 FORMER SOLID OPERATOR RETURNS TO IRAQ, BUT THIS TIME WITH HARVARD MASTER'S DEGREES
"We have come today to remove the corrupt political class and prevent it from holding parliament and also to prevent the Framework from forming a government," said Raad Tabet, 41. "We responded to the call of al-Sadr."
Al-Sadr's party left the government formation talks in June, which gave his rivals in the Framework of Coordination alliance the majority they needed to move forward in the process.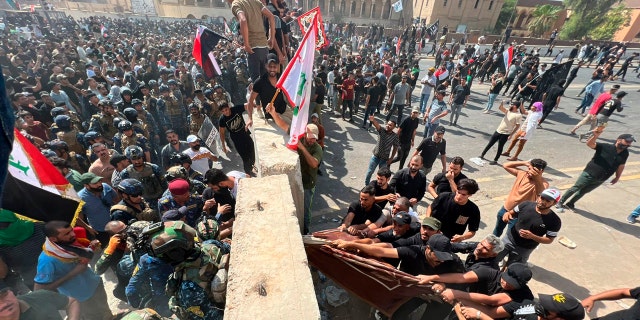 CLICK HERE TO GET THE FOX NEWS APP
Many of the protesters were dressed in black to mark the days leading up to the Ashura holiday, which commemorates the death of Imam Hussein, grandson of the Prophet Muhammad and one of the most important figures in Shia Islam. As-Sadr's address to his followers used important day in Shia Islam stir up protests.
Al-Sadr used his numerous followers as leverage over his rivals.
On Wednesday, hundreds of his supporters stormed the parliament building after the Frames alliance nominated Mohammed al-Sudani as its candidate for prime minister and declared its readiness to form a government despite his threats.