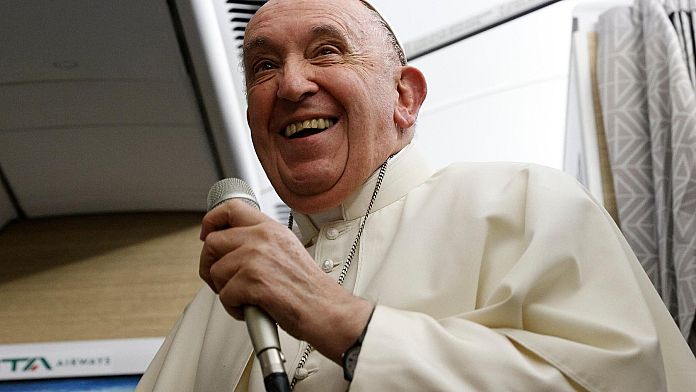 Pope Francis acknowledged on Saturday he can no longer travel like he used to due to a sprained knee, saying his week-long pilgrimage to Canada was a "little test" that showed he needed to slow down and maybe one day get out. on retire.
Speaking to reporters on his way home from northern Nunavut, Francis, 85, stressed that he had not considered resigning, but said "the door is open" and there is nothing wrong with the pope resigning.
"It's not weird. It's not a disaster. You can change dad," he said, sitting in an airplane wheelchair during a 45-minute press conference.
Francis said that while he hasn't thought about resigning so far, he knows he needs to at least slow down.
"I think that at my age and with these limitations, I should save (my energy) to be able to serve the church, or, conversely, think about the possibility of stepping aside," he said.
Francis was bombarded with questions about the future of his pontificate after the first trip, in which he used a wheelchair, walker and cane to get around, which drastically limited his program and ability to blend in with the crowd.
Earlier this year, he sprained his right knee, and ongoing laser and magnetic therapy forced him to cancel a trip to Africa scheduled for the first week of July.
The trip to Canada was difficult and had several moments where Francis was clearly in pain as he maneuvered himself up and down from chairs.
At the end of his six-day tour, he appeared in good spirits and energetic, despite spending a long day on Friday at the edge of the Arctic to apologize again to Indigenous peoples for the injustice they suffered at Canadian church boarding schools.
Francis ruled out knee surgery, saying it would not necessarily help and noting that there are "still traces" of the effects of more than six hours of anesthesia in July 2021 to remove 33 centimeters (13 inches) of his colon. .
"I will try to keep traveling and being close to people, because I think that's the way to serve, to be around. But I can't say more," he said on Saturday.
Pope Francis: Cultural 'Genocide' of Canada's Indigenous Peoples
In other comments aboard the papal plane, Francis agreed that attempts to destroy indigenous culture in Canada through the Church's boarding school system amounted to cultural "genocide".
Francis said he did not use the term during his trip to Canada because it did not come to his mind. Canadian Truth and Reconciliation Commission determined in 2015 that forcibly removing Indigenous children from their homes and placing them in Church boarding schools in order to assimilate them into Christian Canadians constituted "cultural genocide".
"True, I didn't use that word because it didn't cross my mind, but I described genocide, didn't I?" Francis said. "I apologized, I asked for forgiveness for this work, which was genocide."
The Pope also told reporters that he had no objection to the development of the Catholic doctrine of the use of contraceptives. Church teaching forbids artificial contraception, but Francis noted that the Vatican think tank recently published acts of congress discussing modifications to the church's absolute "no."
He emphasized that doctrine could evolve over time and that it was the task of theologians to keep track of such changes, with the Pope ultimately making the decision.