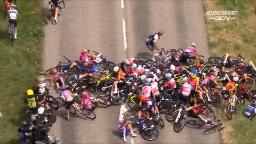 With 50km left of the race's longest leg, an incident on the straight stretch of road between Bar-le-Luc and Saint-de-de-Vosges quickly escalated into a huge crash that sent half of the field flying out from under their bikes.
With dozens of participants, it took the riders several minutes to unhook each other's bikes.
Many of the riders had bumps and bruises: SD Worx's Chantal van den Broek-Blaak had his right hand bandaged in the team car while riding by medical staff, and former Italian champion Marta Bastianelli struggled with tears in her eyes to continue.
However, the massive piling up meant the end of the race for Movistar's Emma Norsgaard after she was forced to retire due to her injuries.
Former British cyclist Dani Christmas said such things can happen on long stretches of road.
"If you are too relaxed, if the riders don't concentrate, accidents can happen. The speed in the group had to be so high that so many riders were hurt."
And at the end of the 175.6 km stage, the longest in the modern history of women's World Tour racing, Lorena Vibs of Team DSM finished first.
The Dutch rider, who also won the shortest stage of the women's Tour de France on Sunday, showed why she is the best sprinter in the world, while world champion Elisa Balsamo came in second and Marianne Vos in third.
However, with four bonus seconds, Vos increased her lead in the overall standings to 20 seconds.