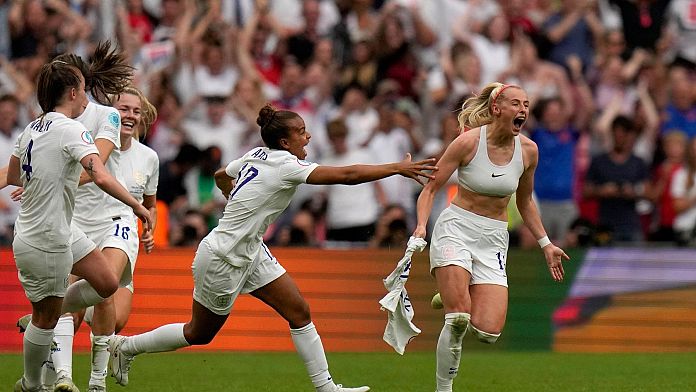 England beat Germany 2-1 in the European Championship final after extra time on Sunday to win their first major women's football title.
Chloe Kelly scored the winning goal on the rebound in the second half of extra time after Germany missed a corner. The game ended 1–1 after 90 minutes at Wembley Stadium when Germany's Lina Magull canceled Ella Thun's goal for England.
After the final whistle, the England players danced as the crowd sang their anthem "Sweet Caroline". The good-natured atmosphere in the stadium on Sunday contrasted with the brutal scenes when the England men's team lost in the European Championship final to Italy at the same stadium a year ago.
The tournament's record attendance of over 87,000 underscored the growth of women's football in Europe since England and Germany last played for the continental title 13 years ago.
On this occasion, Germany scored a 6–2 victory over an England team that still relied on part-time players. Two years later, England launched their Women's Super League, which professionalized the game and became one of the world's premier competitions.
This meant more competition for Germany, which has been a trailblazer in European women's football and is increasingly facing well-funded rivals from England, Spain and France.
Ella Thun caught a long pass from Kira Walsh to get past the German defense in the 62nd minute and deftly crossed the ball over goalkeeper Merle Fromes into the net.
Thun's goal, six minutes after coming into the game from the bench, sparked celebration when England head coach Sarina Wigman – the winning coach of the Netherlands in 2017 – threw up both hands in glee.
Facing their first defeat in nine European finals, Germany came close when Lea Schüller hit the post and then equalized in 79th when Lina Magull knocked the ball off England goalkeeper Mary Earps to send the game into extra time.
As the game went into extra time, there were echoes of another European Championship final at the same venue a year earlier, when the England men's team took a 1-0 lead but lost to Italy on penalties.
Germany was left without captain Alexandra Popp – the team's top scorer with six goals – after she reported muscle problems during the warm-up. She was replaced in the squad by Schüller, and Svenja Hut took over as captain.