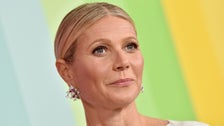 Paltrow, who appeared in Mrs. Parker and the Vicious Circle" with Bieber's father, Stephen Baldwin, in 1994, told the 25-year-old model that her dad was "wonderful" and "so sweet." Bieber was happy to hear that, and then everything changed.
"I love hearing it," Bieber said. "Imagine if you had some kind of horror story and you were like, 'He was terrible! Working with him was a nightmare!"
"That would be bad," Paltrow agreed. "Or if I, for example, fucked your father in the bathroom."
Bieber seemed unfazed: without hesitation, she told Paltrow, "It actually happened to me. I don't know if he even knows that I know that." She didn't go into details.
Paltrow, for her part, clarified that she was just joking about the connection with Baldwin. "I did not do!" she said. "I did not do."
The 19-minute interview went on to cover a range of topics, some of which were slightly more weighty than Stephen Baldwin's sex life.
Bieber comes from a large family of performers― Alec Baldwin her uncle and Paltrow daughter directed by Bruce Paltrow and Emmy and Tony Award winning actor Blythe Danner. Naturally, Paltrow and Bieber chatted a bit about family ties and nepotism in Hollywood.
"Like someone's child [established in Hollywood], you get access that other people don't have, right? So the playing field is uneven in that sense," Paltrow said.
"However, I do feel that once your foot is in the door that you have unfairly entered, you need to work almost twice as hard and be twice as good," she continued. "Because people are willing to drag you down and say, 'You don't belong here' and 'You're only here because of your dad or mom' or something like that."
As for her father's romantic story, Bieber seemed relieved when her guest confirmed she didn't actually sleep with Baldwin.
"Well, that's good to know," Bieber said.