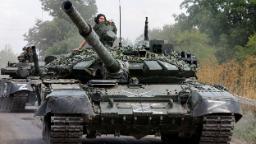 Ukrainian officials say tensions are rising in southern Kherson region as Russian troops try not only to avoid being hit by long-range Ukrainian weapons, but also to shore up their defensive positions.
Advisor to the head of the Kherson civil military administration, Sergei Khlan, said on Tuesday that "the Russians are gradually moving personnel, battalion tactical groups and equipment to Kherson."
"They have built pontoon crossings, made pontoon platforms and use tractors to transport military equipment along with civilian transport," he said.
Hlan said that after the destruction of two bridges across the Dnieper, a large traffic congestion formed on the bridge near the hydroelectric power station in Kakhovka.
Hlan said there was a great danger that street fighting could break out in Kherson, although Ukrainian forces were still far from population centers in the region.
Separately, the Main Intelligence Directorate of the Ministry of Defense of Ukraine reported that on Monday, Russian servicemen encountered an accident while unloading an echelon with ammunition and equipment at the Kalanchak railway station in the Kherson region. They set up a smoke screen to hide the unloading, but then there was an explosion and the Russian troops dispersed, according to Ukraine.
The department also provided more detailed information about the report of the explosion at the Brylovka station on the night of July 29th. It stated that a trainload of more than 40 wagons with manpower, equipment and ammunition was hit.
The Ukrainian military said the Russian military evicted residents from their homes near the railway station to prevent local residents from reporting to Ukrainian forces about the movement of Russian army equipment.
Also, fighting continues in the north of the Kherson region. Dmitry Butriy, acting head of the military administration of the Kherson region, said that 53 settlements had been taken from the Russians, but almost the entire territory was under constant shelling.
"The situation in these villages is catastrophic," he said.