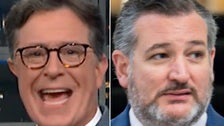 Stephen Colbert towers in St. Ted Cruz (R-Texas) Monday for change your voice and blocking the passage of the PACT Act, which would expand medical benefits for veterans exposed to toxins such as burn pits in Iraq and Afghanistan.
Or, as the Late Show host put it, "A Texas senator and a jerk dressed for a prostate exam."
"I'm guessing there are some veterans out there who would also like to punch Ted Cruz," Colbert snapped.
Cruz was among the many Republicans who voted in favor of the seemingly unchallenged bill in June when it passed the Senate 84–14. But then last week he joined 24 other Republicans who changed their votes and blocked the bill.
Critics said it was a spiteful move, made out of dissatisfaction with the Democrats. reaching a deal raise taxes on the rich and invest in both climate and health care. Colbert called it "overtly cynical" and "senselessly malicious".
As GOP legislators flipped their votes, Colbert proposed a different kind of toss instead:
Check out his full takedown in his Monday night monologue: