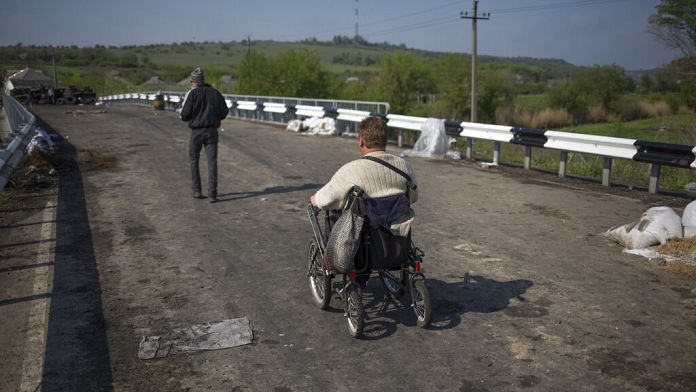 In July, Russian mortars hit a psychiatric hospital in northern Ukraine where dozens of elderly and disabled people were sleeping.
Soon, the canteen of the institution was engulfed in flames, and its dormitory and administrative buildings were destroyed.
Only three people were miraculously injured.
But this is the latest in a series of deadly attacks that have drawn some of Ukraine's most vulnerable people into a violent conflict beyond their control.
Prior to the Russian invasion, there were about 2.7 million people in Ukraine with some form of physical or mental disability, according to Inclusion Europe, an EU disability organization.
The violence and destruction that followed the Russian tanks crossing the border only exacerbated an already "difficult situation" for these men, women and children.
"People with disabilities were under pressure before the war, experiencing prolonged stigma, isolation and barriers to accessing community support," Inclusion Europe said in a statement.
"They can't leave"
Although accurate statistics are difficult to obtain, many Ukrainians with disabilities, especially those with the most severe disabilities, have not been able to flee the war and are struggling to find safety.
One reason is that many people with disabilities need special vehicles or ambulances, which are not always available in a war zone, to get them to safety, said Karolina Kozik, research assistant at Human Rights Watch.
She said her organization was "very concerned" about the fate of the tens of thousands of disabled people living in residential institutions such as orphanages or nursing homes.
"The people who live in these institutions are really separated from their communities, they really live behind closed doors," she said. "They are seriously at risk of being left behind."
In July, footage surfaced showing disabled children living in appalling, inhumane conditions, some of them bound and bound, watched over by powerless staff unable to evacuate them.
To make matters worse, Ukraine's disabled people were "overlooked" in the country's evacuation plans before the conflict broke out, said Yulia Sachuk of Fight for the Right, a Ukrainian charity for people with disabilities.
"Both national and local authorities have not given due consideration to the needs of people with disabilities when planning evacuation routes and evacuation corridors," she told Euronews, adding that her organization helps with evacuations and medical services "without any support."
The Cabinet of Ministers of Ukraine announced that it had extended all social benefits, including disability benefits and care allowances for people with mental disabilities, and coordinated the efforts of ministries to evacuate them, including those placed in boarding schools, neuropsychiatric and other institutions.
"They may find it hard to understand what's going on"
Both the disabled and the elderly are at serious risk in any armed conflict, and Ukraine is no exception.
When violence erupts on the doorstep, people with disabilities, especially those in wheelchairs, may not be able to escape or reach bomb shelters, and hearing-impaired people may not be able to hear warning sirens when gunfire starts, Kozik said.
Even if physically or mentally handicapped people avoid confronting conflict directly, they rarely escape the consequences of war.
"The impact of any conflict on the mental health of any person is enormous," Kozik told Euronews. "For people with disabilities, this can cause even more trauma and psychological stress."
"For example, some people with intellectual disabilities may find it difficult to understand what is going on, and any change in their daily lives can have a huge impact on mental health and well-being."
On March 1, a shell hit the V. Korolenko boarding school for blind children in Kharkiv, the second largest city in northeastern Ukraine.
"Shards of glass flew everywhere, children fell to the floor, they were terrified," said Valentina Butenko, director of the Right to Choose group, which works with Ukrainians with disabilities.
"One girl was injured and the headmaster was hit in the head by a piece of glass. Since then, all the children of the school have been evacuated."
Their conditions make it difficult for persons with disabilities to access life-saving services and humanitarian aid in wartime, even though both Ukraine and Russia are bound by international law to ensure their safety.
In that void, caregiving responsibilities fall on their families, especially mothers, according to Inclusion Europe, which said they basically "just stay".[ing] in their homes, hoping for the best."
"Unfortunately, as terrible as it may sound, people with disabilities in such situations are often secondary. They are a marginalized group even when there is no war," Kozik said.
"This is a humanitarian crisis within a crisis," she added.