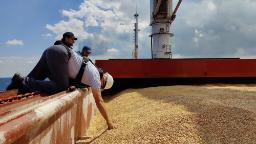 Ukrainian forces are endangering civilians by setting up bases and deploying weapons systems in communities, including schools and hospitals, in an attempt to repel a Russian invasion that began in February, Amnesty International said in a statement. statement on Thursday.
It said that such tactics violate international humanitarian law and endanger civilians by turning civilian targets into military targets.
"We have documented cases of Ukrainian forces putting civilians at risk and violating the laws of war when they operate in populated areas," said Agnes Callamard, Secretary General of Amnesty International. "Being on the defensive does not exempt the Ukrainian military from respecting international humanitarian law."
The statement added that not all Russian attacks documented by Amnesty International followed this pattern:
In some other places where Amnesty International has concluded that Russia has committed war crimes, including in some areas of the city of Kharkiv, the organization found no evidence that Ukrainian forces were in civilian areas that were illegally attacked by the Russian military. Between April and July, Amnesty International researchers investigated Russian strikes in Kharkiv, Donbass and Mykolaiv regions for several weeks.
Ukrainian presidential adviser Mykhailo Podolyak criticized Amnesty's report, accusing Moscow of trying to "discredit the Armed Forces of Ukraine in the eyes of Western society." He added on Twitter that "it's a shame that an organization like Amnesty is involved in this disinformation and propaganda campaign."
"The only thing that poses a threat to Ukrainians is the (Russian) army of executioners and rapists coming to (Ukraine) to commit genocide," he wrote on Twitter.
Amnesty said that during the investigation, investigators found evidence that Ukrainian forces launched strikes from populated areas and were also based in residential buildings in 19 towns and villages in the regions.
According to the statement, most of the residential areas where the soldiers were stationed were within a few kilometers of the front line.
Amnesty International has stated that there are viable alternatives that do not pose a risk to civilians, such as military bases or nearby dense forests, or other structures further from residential areas.
It also states that, in documented cases, Amnesty International was not aware that the Ukrainian military, who were stationed in civilian structures in residential areas, requested or assisted civilians to evacuate from nearby buildings, which amounted to a failure to take all possible precautions to protect themselves. civilians.
Podolyak said protecting civilians is a priority for Ukrainian forces. "Our defenders protect their people and families. People's lives are a priority for Ukraine, so we are evacuating residents of front-line cities," he said.