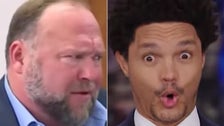 Trevor Noah can't get through Alex Jones— The reaction in court on Wednesday after he learned his own lawyers inadvertently handed over evidence that prosecutors say is proof he lied under oath.
"Oh shit, that was funny!" Noah said after playing back the footage. "I love how he was so shocked that he started turning into all the emojis."
Noah even made his own impression of the Jones emoji:
Noah also noted that Jones coughed loudly, stammering, during the meeting with witnesses.
"At one point, he even tried to get COVID," Noah said, before moving on to another Jones imitation: "Do you know that this disease that I called fake? Yes, now I understand!
See more in his Wednesday night monologue: