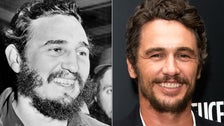 Fernandez was 10 years old when she found out that Castro was her biological father. She later became a staunch anti-Castro activist and was arrested several times as a dissident for trying to flee a communist country before successfully fleeing to Spain in 1993.
Fernandez will serve as on-set creative and biographical consultant, and the screenplay is written by Oscar-nominated screenwriter José Rivera and Pulitzer Prize-winning Cuban playwright Nilo Cruz. But Franco's casting has already drawn a backlash, especially from his fellow actors.
"Plus a very complex story to tell without exaggeration, which would be wrong!" Leguizamo added. "I don't have a problem with Franco, but he's not Hispanic!"
"I'm auditioning for another typical Hispanic drug dealer and James Franco is fucking awesome playing Fidel Castro" Actor Jeff Torres tweeted.. "Hispanics do dirty things here and everywhere."
However, lead creative producer John Martinez O'Phelan told Deadline that the casting was carefully considered, and that he "combed through the ranks of actors with Latin roots in Hollywood." He noted Franco, who is a quarter Portuguesebore a "close physical resemblance" to Castro.
O'Phelan told Deadline that his team specifically focused on actors of Spanish and Portuguese descent because Galicians like Castro share that ancestry. He said that Franco was chosen for "the closest facial resemblance" and that he managed to "find someone Alina Fernandez would strongly support".
O'Phelan said that "the focus was on creating a work of fiction of contemporary Latin American history, with the vision of the project as being truly inclusive by bringing together actors and creatives from multiple generations and recent Latin roots from the US, Latin America, and around the world." ".
Annenberg's Inclusion Initiative at USC's School of Communication and Journalism reacted to the news on twitter contrasting the cancellation of "multiple Latin American shows" with Franco's casting, "No wonder there's so little progress in this city."
The supporting cast includes Cuban-born actors Sian Chiong and Rafael Ernesto Hernandez, as well as Maria Cecilia Botero from Encanto. Filming for Alina from Cuba will begin in Cartagena and Bogotá, Colombia later this month, where colonial architecture mimics that of Havana.