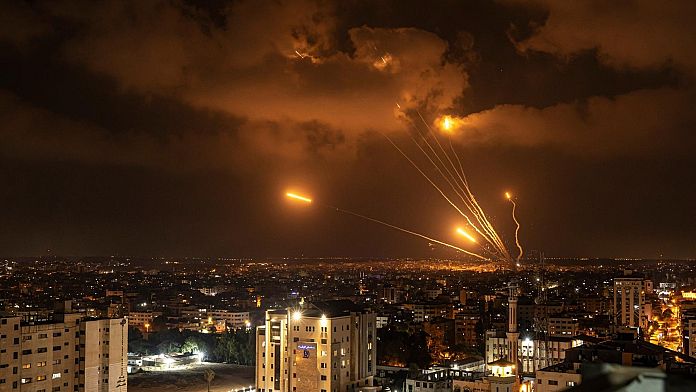 Israel launched a series of airstrikes on the Gaza Strip on Friday, Palestinian officials said, killing at least 10 people, including a senior militant, and wounding dozens.
Israel said it targeted the Islamic Jihad militant group in response to an "imminent threat" after the arrest of another senior militant in the occupied West Bank earlier this week.
Hours later, Palestinian militants fired rockets into central and southern Israel as air raid sirens wailed. Islamic Jihad claimed to have fired 100 rockets.
Over the past 15 years, the militant rulers of Israel and Gaza, Hamas, have fought four wars and several smaller battles at a staggering cost to the 2 million Palestinians living in the area.
The explosion rocked the city of Gaza, where on Friday afternoon smoke came from the seventh floor of a high-rise building. A video released by the military shows that the strikes blew up three watchtowers containing suspected militants.
In a speech on national television Friday night, Israeli Prime Minister Yair Lapid said his country launched attacks based on "specific threats."
"This government has a zero-tolerance policy against any attempted attack of any kind from Gaza into Israeli territory," Lapid said. "Israel will not sit idly by when there are those who try to harm its civilian population."
He also added that "Israel is not interested in a wider conflict in Gaza, but will not shy away from it."
"Together we will be strong against the enemy," Prime Minister Lapid said in a televised address.
"I urge everyone to follow the instructions in the coming days. I trust the Israeli public and I am sure that it will provide broad support for our security system. Whatever the cost, we will eliminate the threats from our citizens*.
Escalation of violence a political test for Lapid and Hamas
The escalation of violence is an early test for Lapid, who has taken on the role of interim prime minister ahead of November elections in which he hopes to keep the job. He has a background in diplomacy, having served as foreign minister in the outgoing government, but his security record is limited.
Hamas is also facing a dilemma in deciding whether to engage in a new battle, just a year after the last war caused widespread destruction. Since then, there has been little to no reconstruction, and the isolated coastal area has sunk into poverty, with unemployment hovering around 50%.
The Palestinian Health Ministry said a 5-year-old girl and a 23-year-old woman were among those killed, and 55 others were injured. He made no distinction between civilians and militants. The Israeli military said that according to preliminary estimates, about 15 militants died.
Islamic Jihad said Tayseer al-Jabari, its commander in northern Gaza, was among those killed. He replaced another militant killed in an airstrike in 2019. Hundreds of people marched in a funeral procession in memory of him and others killed, and many of the mourners waved Palestinian and Islamic Jihad flags in a call for revenge.
The Iron Dome defense system intercepts missiles
Israeli media showed that the sky over the southern and central region of Israel is illuminated by rockets and interceptors of the Israeli Iron Dome missile defense system. There was an explosion in Tel Aviv.
It was not immediately clear how many rockets had been fired, and there was no record of any losses on the Israeli side.
On Friday, Israel continued to strike other targets, including weapons manufacturing facilities and Islamic Jihad positions.
After the initial Israeli strikes, several hundred people gathered outside the mortuary at Shifa's main hospital in Gaza City. Some went in to identify loved ones, but came out with tears in their eyes. One shouted, "May God avenge the spears," referring to Palestinian informers collaborating with Israel.
An Israeli military spokesman said the strikes were in response to an "imminent threat" from two groups of militants armed with anti-tank missiles. A spokesman, who spoke to reporters on condition of anonymity, said al-Jabari was a deliberate target and was responsible for "repeated attacks" against Israel.