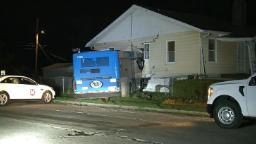 ST. LOUIS, MO. (KMOV) – A Metro bus driver lost control and crashed into a house on East Street. Louis late Thursday night.
The accident left some damage at 83rd Street and Maribel Avenue in East Street. Louis at approximately 11:45 p.m. Another car and bus had an accident at an intersection, causing the bus driver to lose control and crash into a house.
The hostess was sleeping at the time. No serious injuries were reported.
The story will be updated as more information becomes available.
Copyright 2022 KMOV. All rights reserved.