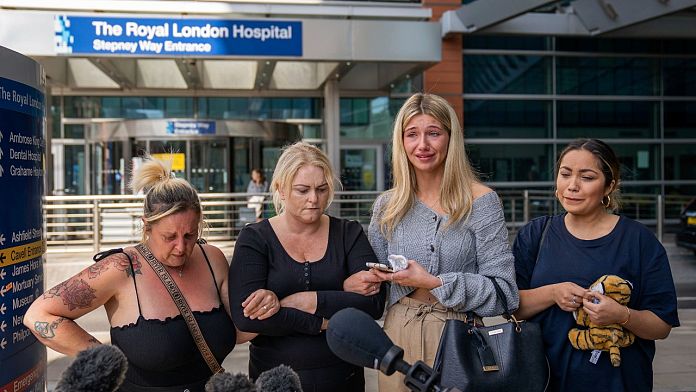 A 12-year-old boy who had been in a coma for four months died Saturday at a London hospital after doctors withdrew life-sustaining treatment, which has been the subject of a lengthy legal battle.
Archie Battersby's mother, Holly Dance, said he died at 12:15 p.m. local time, about two hours after the hospital began halting treatment.
British courts denied the family's request to have Archie transferred to hospice, and the European Court of Human Rights refused to intervene for the second time.
"He fought to the very end," Dance said, crying, outside the hospital. "I'm the proudest mom in the world."
Archie's care became the subject of several weeks of legal wrangling as his parents tried to force the hospital to continue with life-sustaining treatment, while doctors argued that he had no chance of recovery and should be allowed to die.
The family requested permission to transfer the boy to hospice after British courts ruled that it was in his best interest to stop treatment.
The hospital said that Archie's condition was so unstable that moving him would hasten his death.
On Friday, High Court Judge Lucy Theis denied the family's request, saying Archie should remain in the hospital until treatment is stopped.
The dispute is the latest case in the UK in which the doctors' decision runs counter to the families' wishes.
Under British law, it is common for the courts to intervene when parents and doctors disagree with a child's treatment.
In such cases, the best interests of the child take precedence over the right of the parents to decide what they think is best for their offspring.
On April 7, Archie was found unconscious at home with a bandage on his head. His parents believe that he may have taken part in an online competition that went wrong.
Doctors concluded that Archie's brainstem had died shortly after the accident and attempted to put an end to the long list of treatments that had kept him alive, including artificial respiration, drugs to regulate his bodily functions, and round-the-clock nursing care.
But his family objected, arguing that Archie was showing signs of life and didn't want them to give up hope.
Ella Carter, fiancée of Archie's older brother Tom, said Archie was stable for about two hours after the hospital stopped all medication. According to her, the situation changed when the fan was turned off.
"He's completely blue," she said. "There is absolutely nothing worthy about watching a family member or a child suffocate. No family should go through what we went through. This is barbarism."
Carter rested her head on Dance's shoulder and sobbed as the two women embraced.
The hospital expressed condolences and thanked the doctors and nurses who cared for Archie.
"They provided high-quality care with extraordinary compassion for months under often difficult and worrisome circumstances," said Alistair Chesser, Chief Medical Officer of the Barts Health NHS Trust, which runs the hospital.
"This tragic incident not only affected the family and his caregivers, but also touched the hearts of many people across the country."